The doctors and staff at JAMC are involved in our community!
"April Showers" Pet Supply Drive
During the month of April 2016 our wonderful clients and staff donated items and cash for our "April Showers" pet supply drive. The monetary donations were used to purchase additional items on the recipients' wish lists. At the end of the month we donated the items to the Humane Society of Southern Wisconsin and Tailwaggers 911. We are happy to help these local organizations that do so much for the animals in our community.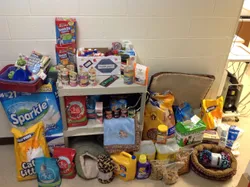 ---
Canine Officer Care
We are proud to support the Janesville Police Department and the Rock County Sheriff's Department by providing care for their canine officers. Pictured are Officer Drew Severson, his partner Fred, and Dr. Erica Reinman.
---
Amanda and "Rocky" Teach Kids How to Interact with Dogs
July 2013 - Amanda Henry, CVT and her dog Rocky work with the Rock County Health Department to teach children how to safely approach dogs. Check out this Janesville Gazette article to learn more: Making a Friend-Lessons help teach children how best to approach a dog Part 1 & Part 2.